You know how it is you wait ages for one science fiction weapon conversion project then two come at the same time...here's how it stands so far with the two projects on my intergalactical robobench. First the continuation of the latest Blade Runner blaster project.
I've got brave...having 2 backups helps but I ot brave nonetheless. After trying out some other grips from different plastic shooters I took my trusty, thumbslicing scalpel and hacked the entire bugger off.
half Beretta idea...mmm...nope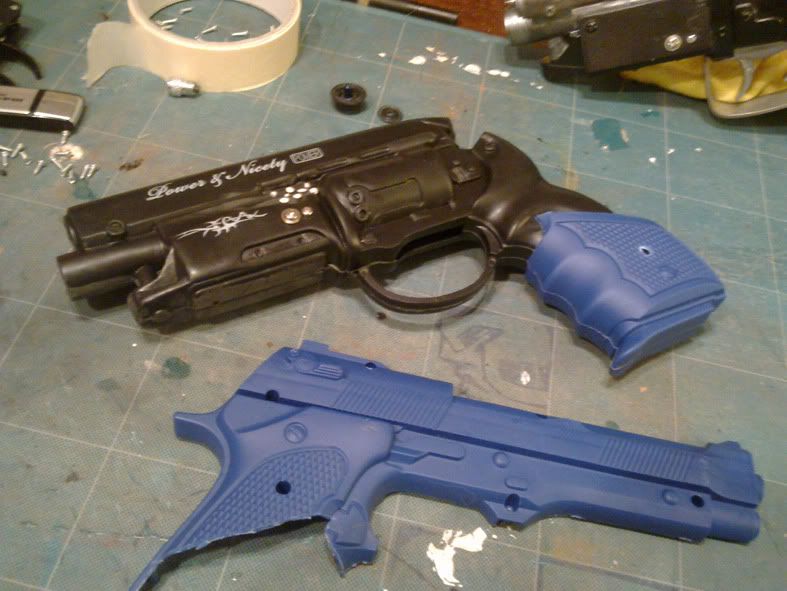 Hogue style grip overlay....mmmm, well, mmmm...naaah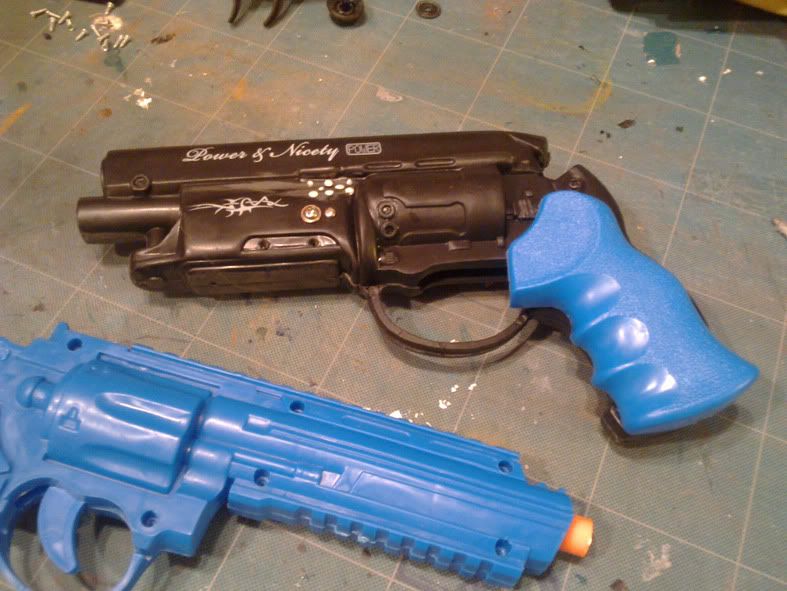 off she comes..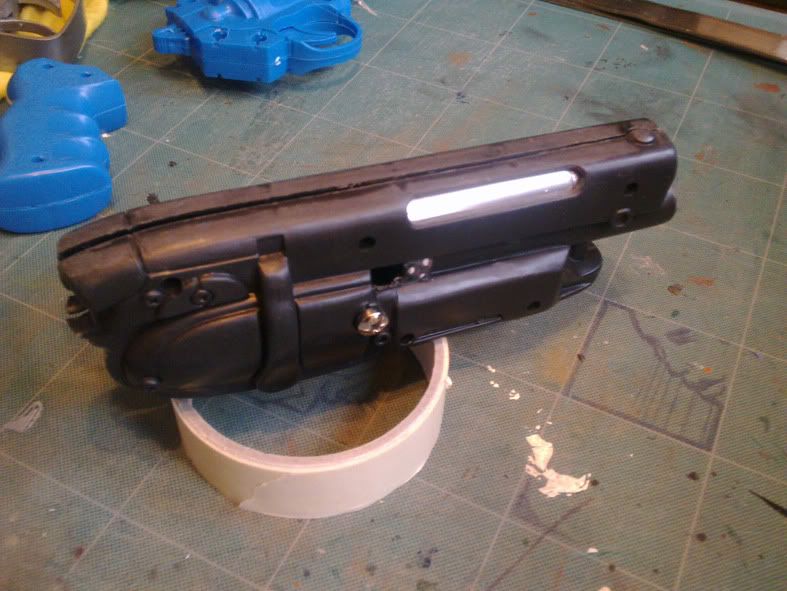 so now the idea is to fabricate an inner frame and somehow, mould, carve or hand sculpt a more accurate set of grips..the inner frame will be based on something like this....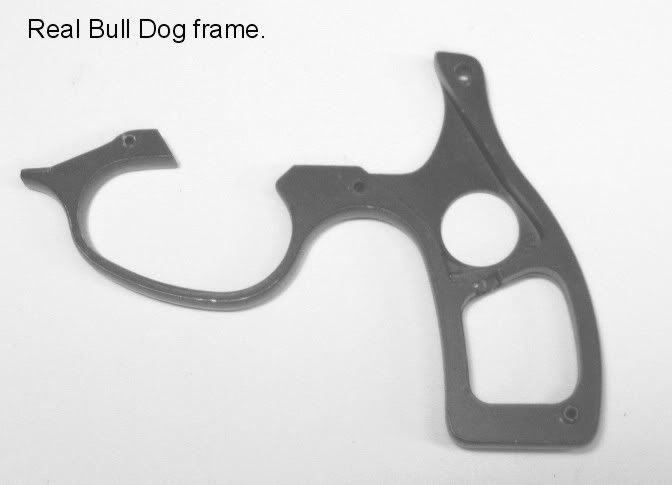 The next bold move inspired by stong black coffee and too many cigarettes was to cut out the moulded plastic barrel and replace it with some metal tubing...
First..out comes the offending section..hack..hack...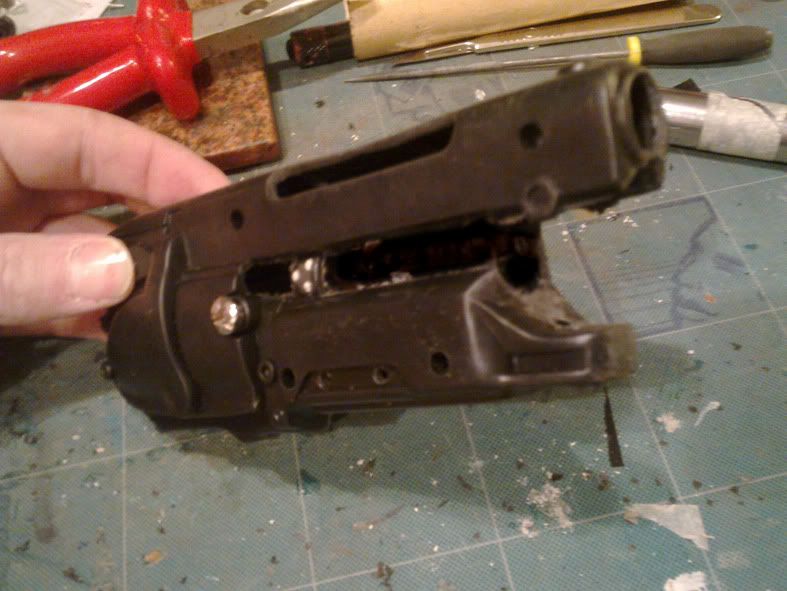 Then after a quick visit to the local garden centre and with the aid of my eagle eyed wife we found a corrct sized metal tube and after cutting of a workable length...in she goes...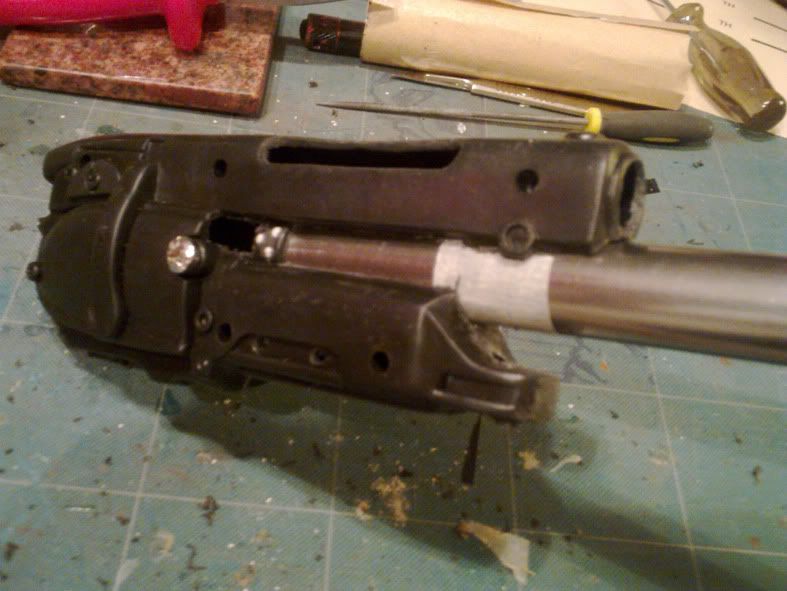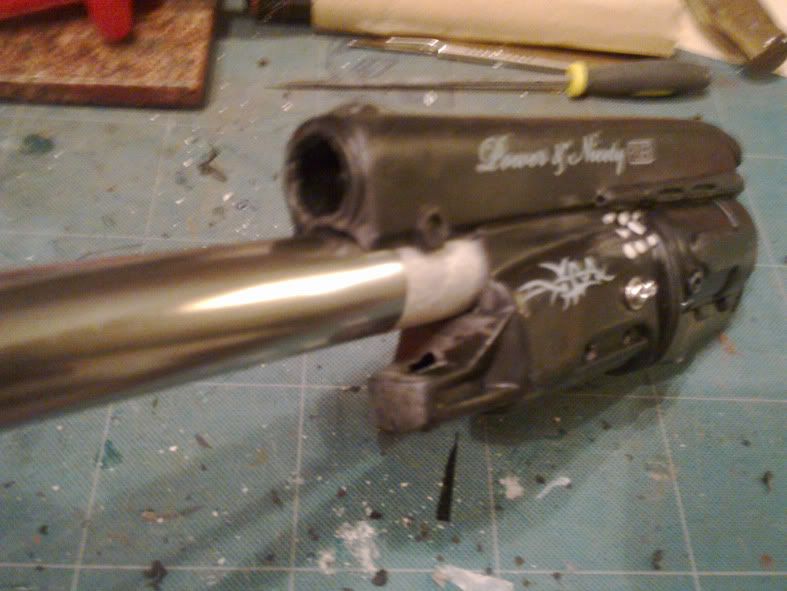 I'm just waiting on a pipe cutter to be delivered to trim it to the correct length. As you can see from the above photograph whilst removing the barrel I had to also remove the bottom support detail,
but
with the help of an old plastic filter from an E-cigarette and some patience, that was quickly replaced.
Humble E-cig filter gives it's life for a higher purpose...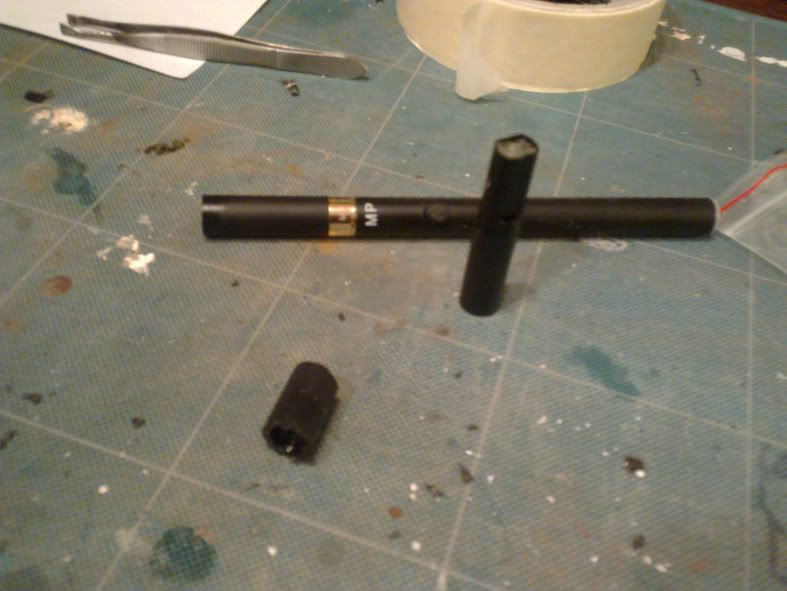 From simple earthly filter to super hi-tech blaster barrel support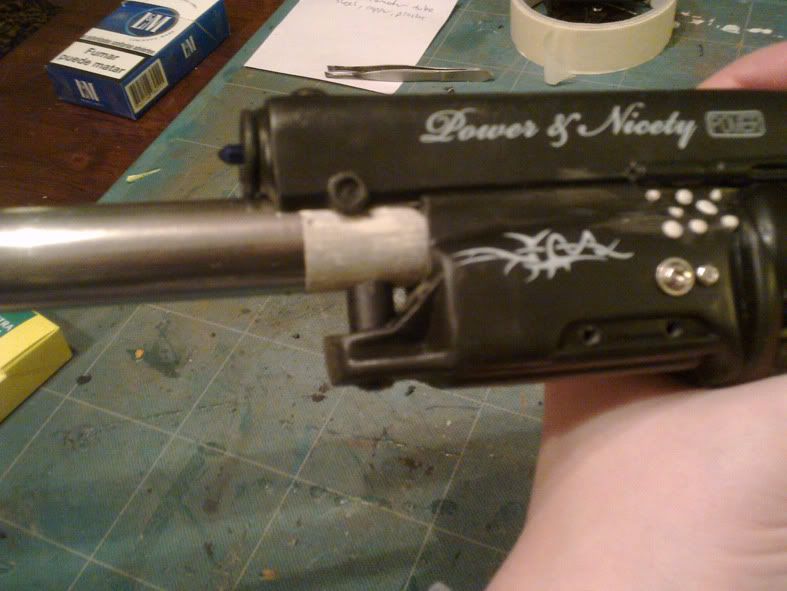 So that's where things stand with that at the moment. The other project - Boba Fett's ROTJ EE-3 Blaster - has been gathering dust over the holiday period, partly due to alcohol and poultry intake and partly due to my dissatisfaction with how the work is going on the buttstock. I'm hunting for a decent sized 'real' wooden stock to replace the tiny flimsy plastic one with due to it's general poor quality. BUT...the postman came today bearing gifts...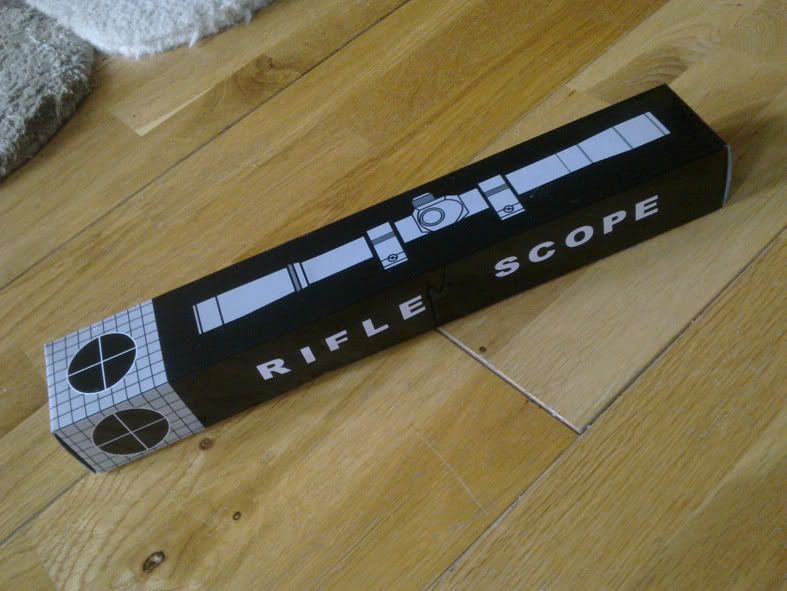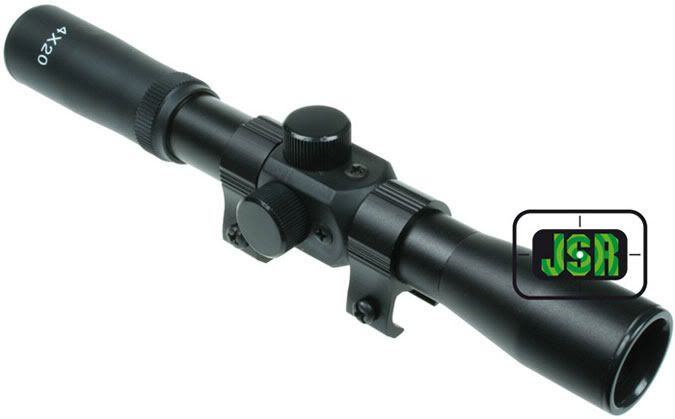 and with a bit of fiddling around my EE-3 is now fully scoped out.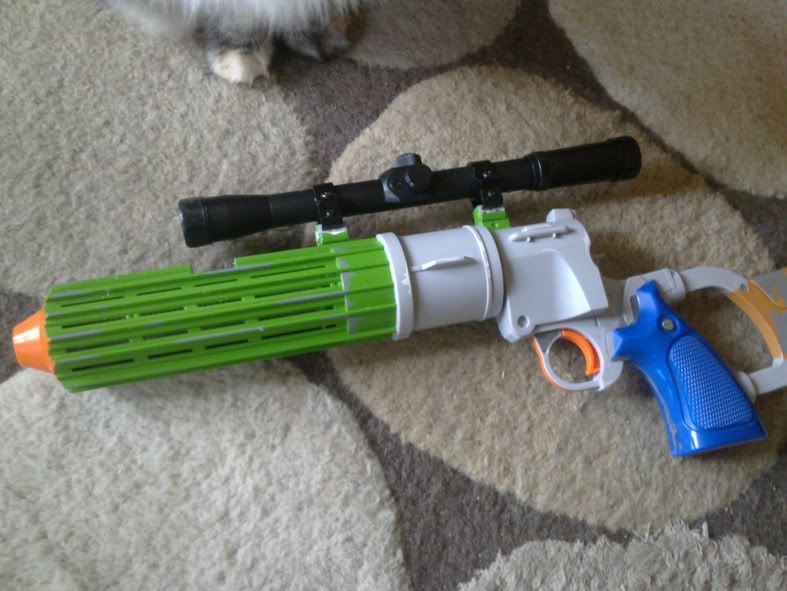 How cool is this?....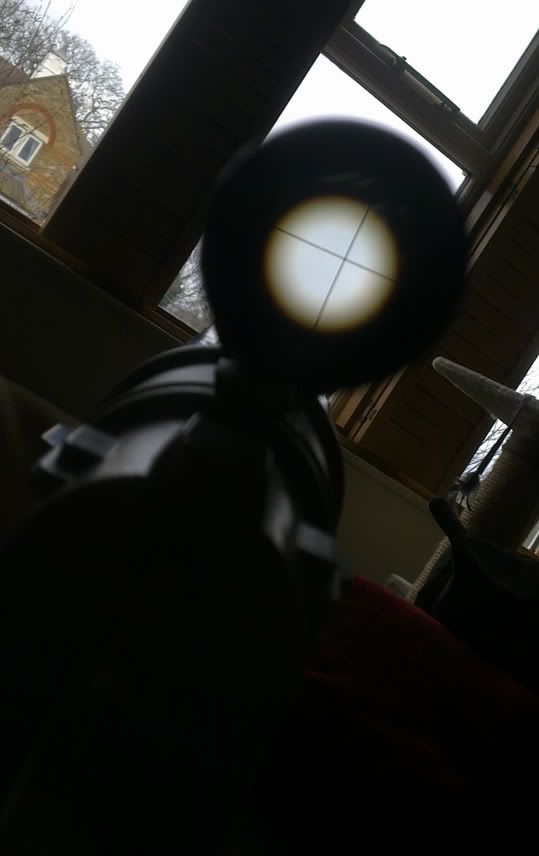 Until the next time...
I ARE NERD
Respect
P.