Now things are reaching the last stages of modification, I've given everything undercoat and topcoat (gun metal and metallic black gloss) ready for the weathering and ageing paint effects (need to research that a bit)
All except for the handgrips which I've given a quick couple of coats of dark brown enamel but they need something else I feel.something a touch more special but well..all in time.
I've gone one step further in authenticity and painstakingly (and rather shakily) etched some markings into the top barrell section....
they aren't anywhere near as clean and 'stamped' looking as I'd hoped for but from a short distance they look convincing enough, which is really the best I can hope for with the finished product anyway!
Now the time has come for adjustments so that everything fits together seamlessly, I want to install electronics/battery and on/off switch then put the two halves together and plasto over any seams or gaps. Finally giving everything a last coat of paint to mask the plasto fills.
The trigger guard needs to be fitted a bit better to allow full closure of the halves as you can see below...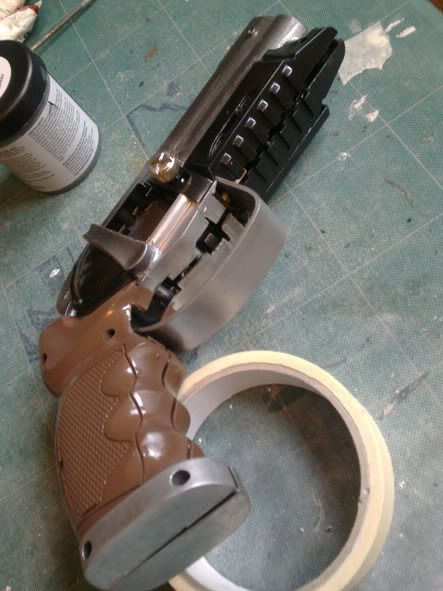 It probably means a bit of plastic shaving rather than the metal as it's easy to just scalpel little bits off and adjust to fit snugly.
Overall, despite some minor niggles caused by my impatient handling of still sticky paint and some other inconsiquental aesthetic issues, I'm quite pleased with how its all coming along.
whaddya think so far?...still lots of work to do!!!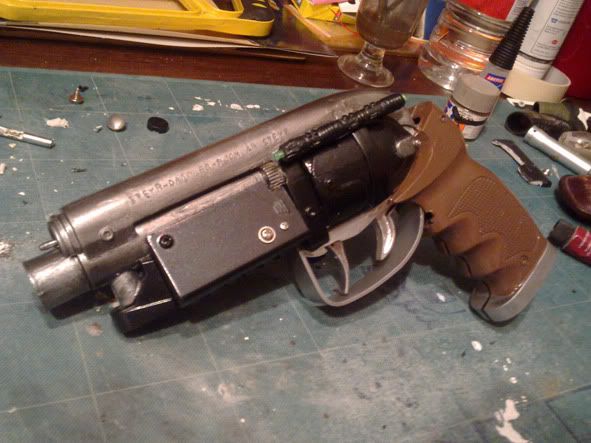 In other tenuously related news I found this in a local poundstore the other day....Robocop anyone?
....More to follow....
I ARE NERD
Respect
P.